VillageMD is Clinically Driven and Patient Centric.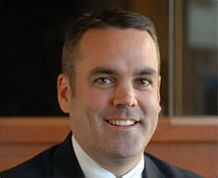 What kind of a partner is VillageMD? Patrick McGill, MD, the Vice President of Clinical Strategy for Community Health Network and a family practice physician at South Indy Family Medicine in Indianapolis, IN, shares his thoughts:
Three things are top of mind for me when you talk about VillageMD. First, they are clinically-driven and patient-centric. Everything in their approach is designed to drive to improved outcomes for our patients. Second, they are innovative in how they apply different tools into a primary-care led model for care. For example, some physicians perform Annual Wellness Visits "AWVs" and use them as a tool to enhance practice revenue. But VillageMD's model uses the AWV to improve patient care. The AWV is a tool to close gaps in care, to identify patients in need of care management, and to help identify opportunities for more accurate coding, which ultimately helps us align additional support to our patients who need it. Third, I think that they are thoughtful and methodical in how they lead physicians through the change to a primary-care led model. They started with us and educated us on the most important aspects of value-based care; they got our buy-in first, and then moved to using data to identify high-risk patients. Every step in the implementation built on itself.
Knowing that trust is critical to enabling change, VillageMD focused on earning our trust from Day 1. Once we saw their experience and expertise in action, the trust came naturally. They were also very respectful of our culture; we are part of an integrated healthcare delivery system, and will do things differently than physicians in private practice. I like to say, "You don't go into someone's house and tell them how to rearrange their furniture" and VillageMD acknowledged and respected the uniqueness of our organization and adjusted it's approach accordingly.
A good partner makes your life easier. VillageMD has done that for us. We have a supportive partner, at the elbow of each clinician, helping us to take care of our patients. There are always follow ups after we see a patient with a chronic condition, and we can offload much of this work to the VillageMD team and know that things will get done. Having a care team here in the office, as a part of our practice, also makes communication much easier than in the past, when I may or may not have gotten a phone call from a health plan's care management nurse. I also have more insight into the cost of care than before and can easily see my patients with high ED utilization or my inpatient admissions. I also see that these metrics are decreasing after 18 months into the partnership.
The VillageMD partnership has also helped me grow as a physician and leader. I have a stronger ability to take care of my sickest patients. I also view them more holistically in terms of all their health issues vs. what they came into the office for today. As a physician leader, I feel more equipped to have conversations about managing chronic disease and to guide a new generation of physicians to adopt this new care model.
Annual Wellness Visit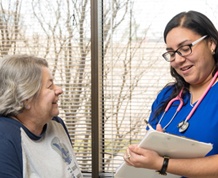 The Annual Wellness Visit ("AWV"), a yearly preventive care visit covered at no cost to Medicare beneficiaries and covered by some commercial insurers, is a critical component of VillageMD's model of care. The visit allows a provider and patient to have a proactive discussion about the patient's health status, their current and past conditions and medications, and other providers they see across the healthcare system. In addition to furthering the patient/physician relationship, the AWV also allows providers in the VillageMD model to assess patients for risk factors, close care gaps, reconcile medications, identify patients for care management programs, better coordinate care, and improve the accuracy of coding and documentation. These actions lead to higher quality and improved clinical outcomes. What's more, AWVs generate incremental revenue to the practice.
Consistent use of the AWV under VillageMD's model for care drives meaningful results:
Higher quality:
21% higher quality measure compliance rate for Medicare Advantage patients who received an AWV versus those who didn't
More accurate documentation:
100% improvement in diagnosis code accuracy compared to patients who did not receive an AWV
Higher revenue:
63% increase in AWVs completed in medical groups who were regularly using the AWV prior to partnering with VillageMD
3% increase in patient attribution (patient inclusion in the value-based contract) from consistent use of the AWV
VillageMD's AWV support model is customized for the needs of each practice. For practices who already do the AWV and have existing staff to perform the visits, VillageMD's support focuses on best practice process and technology integration. For practices in need of additional provider capacity, VillageMD offers staffing support (e.g., nurse practitioners pharmacists, or registered nurses) in addition to process and technology integration.
Better Care and Better Practice Economics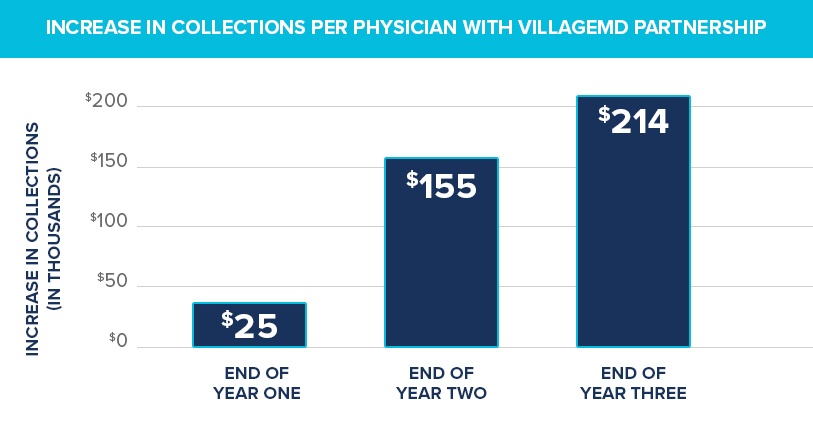 Having a team working the follow ups so nothing falls through the cracks after I meet with a complex patient. Entering an exam room with new insights about that patient's physical, emotional, and social challenges. Clinical resources who go into a patient's house to help ensure they have a safe transition home from the hospital. A partner who helps me track and close care gaps on my entire patient population.
These capabilities top many primary care providers' wish lists because they help them deliver better care to patients. With VillageMD's support, you can deliver this enhanced level of care and grow your practice's revenue stream at the same time.
VillageMD's provider partners have increased annual collections by more than $150,000 per physician at the end of Year 2 and $200,000 per physician at the end of Year 3 – all while practicing medicine the way they've always wanted. The revenue growth has several drivers:
1. Enhanced Payer Contracts: Health plans are willing to invest in primary care when they see results like ours. They understand that higher value care should be compensated at a rate that recognizes the additional resources required to deliver that level of care; as a result, we get better rates and value-based contract terms than what most PCPs get on their own.
2. Value-Based Payments: Having a contract with value-based payment mechanisms is step one. Achieving results and meeting quality and cost targets is more challenging – but not when you have VillageMD as a partner. Our population health operations team tracks provider performance across the year and supports providers with delivering great care to their patients, getting better clinical outcomes, and doing it all at a lower total cost. As a result, providers share in the value generated for their patients.
3. Clinical Ancillaries: Having lab, physical therapy, and pharmacy within the practice results in better care coordination and patient compliance, improved clinical outcomes, and a great patient experience. It also increases practice revenue. VillageMD brings the start-up capital and the know-how to establish these services within the primary care practice, benefitting both physicians and patients.
4. Cognitive Ancillaries: Health assessments such as the Annual Wellness Visit ("AWV"), patient education such as Chronic Care Management ("CCM"), and transitions of care services such as Transitional Care Management ("TCM") are critical components to our care model and lead to higher quality outcomes. Medicare and many commercial payors reimburse for these services. VillageMD provides the operating models and staff to make these important services a routine part of patient care and to help practices increase their revenue base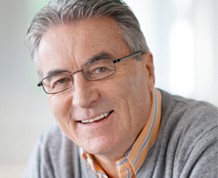 Background
John* is a 64-year-old man with diabetes, obesity, and hyperlipidemia. He was referred for care management by his primary care physician. Initially, John was skeptical that program would be helpful to him, but he finally called to schedule time with Cindy* from his doctor's Care Navigation team. John's journey towards weight loss and health success began with that first meeting.
Current Health Status
Prior to the assessment, Cindy reviewed John's case in the EMR and huddled with John's primary care physician to understand his treatment plan and goals for John. Notable metrics and guidance included:
Diabetic male - 5'8"; 325lbs.; BMI 49; estimated 43.7% body fat; Triglycerides 157mg/dl
A1C increased and now at 7.7%, not checking blood sugars
On Metformin, recommendation to increase medication due to increased A1C
Care Manager Assessment
Initially, Cindy and John spent an hour discussing John's health and some of the factor's influencing his health deterioration. John opened up to Cindy that he stopped taking care of himself when his wife died 5 years ago. Cindy sensed that he was easily overwhelmed with health details and John confirmed this. He wasn't tracking his blood sugar because his old meter was broken. In addition to his diabetes, he has chronic knee pain and needed surgery, but his orthopedic physician would not agree to surgery until he lost 60 pounds.
Patient Engagement
Over the course of several meetings, Cindy picked up on John's queues about his wife's passing and talked to him about how the loss impacted how he took care of himself. A light bulb went off for John, and he finally realized how his wife's death was a catalyst for his declining health. They discussed how his wife would feel about his health, and John agreed that she would want him to take better care of himself. He told Cindy that he was finally ready to make changes and she committed to guiding him every step of the way, along with his physician.
Care Management Program Interventions
Cindy worked with John and his physician to develop a care plan personalized to John's health needs, motivators, and preferred learning style. This included setting very small, digestible, specific goals around his diet and overall eating habits, and evaluating his progress towards each micro goal. John and Cindy met every 6-8 weeks to provide needed support around specific diet strategies for diabetics trying to lose weight. She also helped him get a new glucometer that was covered by insurance. Finally, they worked together to introduce regular exercise into John's routine.
Patient Outcomes
John has lost 61.2 pounds and 6.4% of his body fat since entering the program. He was approved for knee surgery by his orthopedist. He and Cindy are working on a proactive plan for how he can stay on track with his physical activity while he is rehabbing his knee. John's A1C went down to 6.0% and he no longer takes any medication for his diabetes. His triglycerides decreased to 78 mg/dl. He is exercising 30-60 minutes each day and continues to be motivated and happy with his improved health and take on life. John praised Cindy's personalized approach: "Cindy made me feel comfortable and managed to motivate without me feeling intimidated or belittled for how I was eating. She continued to motivate me, gave me options as to what I felt like I could do each step of the way, and steered me in the right direction. I felt I was able to keep up with making changes because the entire process taken was at my pace".
*This is an actual patient case but all names were blinded for patient confidentiality purposes.