Our rooming model provides detailed instructions, best-practice process flows and key performance indicators, resulting in higher nursing quality, identification and closure of care gaps, and more physician-patient time. Rooming guidelines cover a spectrum of processes and patient types, including specific actions for vital sign measurement, diabetic rooming, and medication reconciliation to name a few.
Example: Blood Pressure Management
It's unfortunate that blood pressure tests are not always done accurately or at the right time. Our rooming guidelines provide detailed instructions on how and when to properly take a blood pressure, when a repeat test is required and the process and tools required to monitor compliance.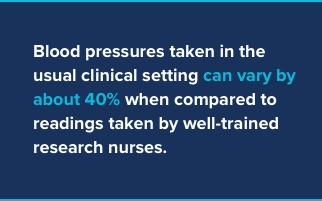 For example: blood pressure measurement should be taken by the nurse or medical assistant at every patient visit. It is especially important for patients diagnosed with hypertension to assess control of their condition and to prevent development of other cardiac diseases. Additionally, blood pressure capture is an important element of quality measure compliance.
Our goal is to help providers educate their staff to take a more standard, accurate, and actionable blood pressure measurement. This helps to identify patients that require additional medication adjustment, lifestyle or behavioral approaches, or assistance with addressing barriers to care.
VIEW OUR CARE MODEL FOR COPD